Some girls will trample innocent people to get their hands on Chanel Le Vernis. Me? Um… not so much. Chanel is overrated. 99.5% of their colors are boring and the wear is not exceptional for the price tag. Excluding the amazing but impossible-to-find Chanel Holographic (which wasn't released in the U.S. because why would they ever release something actually worth buying in the U.S.), I don't think I've ever seen a Chanel that made me jump out of my seat… until I saw Chanel Kaleidoscope.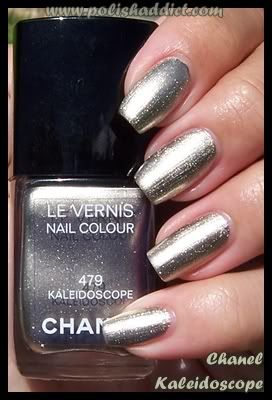 Kaleidoscope is the quintessential non-glitter ultra-bling polish. It's like ultra-bling all grown up. The blinginess is more subtle indoors, it becomes a mirrored greenish platinum in indirect lighting. If you only ever buy one Chanel, it has to be this one.
Of course, this color was 'Limited Edition' as per Chanel's modus operandi of creating articifical hype for their polish -insert eye roll- so sadly, it's probably no longer available in stores. If you want it, you'll either have to turn to evilbay scalpers and shell out absurd amounts of money for it or  you can settle for one of the very worthy alternatives.