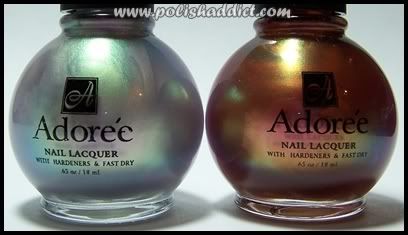 I've been eyeballing the Adorée duochromes, as I know some of you have, for some time now. I was hoping for some opaque duochrome-y goodness but alas [throws arm over forehead] these are… sheer. There must be something about the chemical formula that creates the multichromatic effect that causes most high intensity duochromes to be sheer. It's not that I dislike these colors, I was just expecting something different. Ultimately, I've accepted this cruel… cruel fate, I love duochromes and I just have to deal with the fact that, to my chagrin, duochromes tend to be sheer.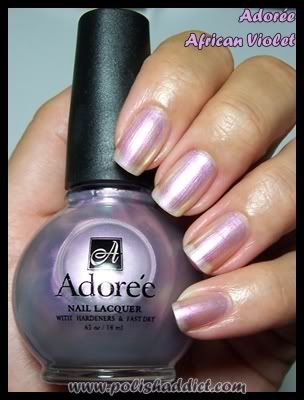 Adorée African Violet is super sheer, this swatch is 4 coats. I couldn't get good pictures of the duochromatic effect but it is visible despite the sheerness. This color by itself with no colored base creates a greenish cast at some angles. It's very pretty and seems to be a distant cousin of the coveted OPI Sugarplum Yum. Ultimately, due to my preference for opacity, this African Violet is probably not something that I would wear on its own but it's a great color for layering.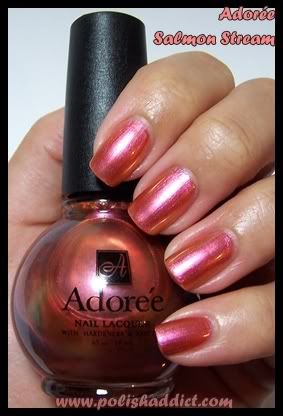 Adorée Salmon Stream has gotten nothing but raves from the people who own it. It's not very me but I can see what polish lovers like about his color. It's less sheer than African Violet, this swatch is also 3 coats. I guess the best description of this color would be copper with a fuchsia tinge and a green cast at some angles.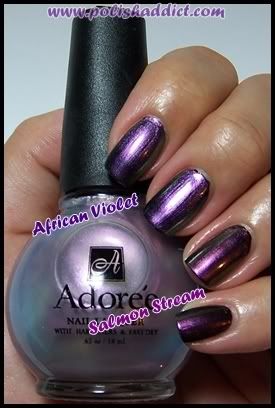 Now, *this* is more like it. African Violet and Salmon Stream over black create amazing colors. African Violet over black is dark purple and Salmon Stream becomes a fuchsia toned purple.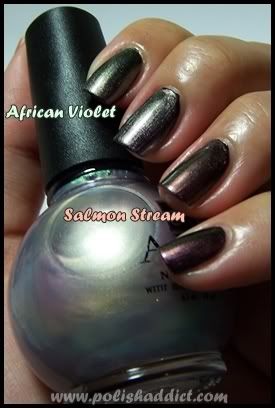 This swatch above is representative of the grayish transitory color that the wearer would get at some angles before reaching the dark green extreme of the chromatic spectrum. The swatches below are representative of the green end of the chromatic spectrum.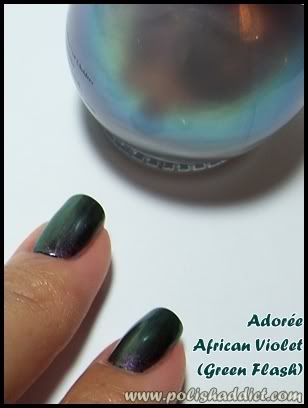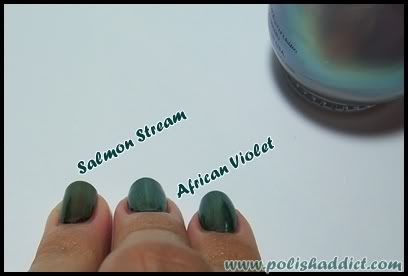 Don't mind my silly finger contortions. It was the only way to get these greens to photograph.
Adorée is available from Esther's Nail Center in the U.S. and Nail Pro Store in Europe.
_____________
Disclosure: African Violet and Salmon Stream were sent to me for review by Esther's Nail Center at my request.