Monday, June 30th, 2008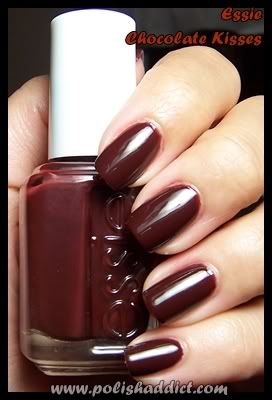 I apologize for the sloppy application – this was the first mani I did after the tragic nail breaking incident of 2008 – I'm still adjusting my application style to my new length. Length actually makes a difference in these things. I became used to using a larger amount of polish on the brush, now that my nails are shorter, the extra polish is pooling at my cuticles. Also, some of you may notice that this image looks different from my other images. I live in Florida, summer for us means constant thunderstorms in the afternoon. It's becoming increasingly difficult to take sunlight images, so from time to time, I'll have to make do with these indoor shots. I prefer sunlight images because they tend to give more accurate depictions of color and shade but the sun never comes out anymore. I'll try my hardest to catch it when I can.
*Sigh* I was inspired to purchase Essie Chocolate Kisses after I saw it on Fivezero (one of my nail polish idols, that unfortunately pulled an Amelia Earhart). Essie Chocolate Kisses is a brownish slightly red vampy. This mani is 3 coats. The application was excellent aside from the difficulties I had due to my own application shortcomings. Even though this is an indoor shot, this image is an accurate depiction of the color and shade of Essie Chocolate Kisses. This one is a definite keeper, it's pretty much the first brown that has not looked horrible on me. Yeay!