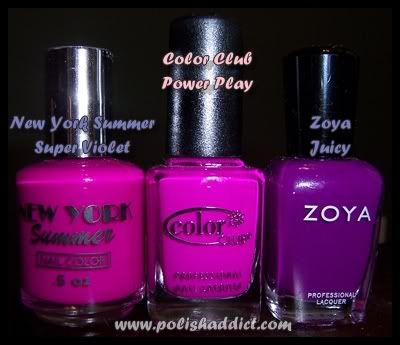 In my infinite nail polish nerdiness, I somehow ended up three neon purple polishes. Well, four actually, I didn't include China Glaze Flying Dragon in the comparison because it's unique enough that everyone should own it, regardless of whether one owns other neon purples. The image above is misleading, Color Club Power Play and New York Summer Super Violet aren't as magentish in person as they are in the picture and both look very similar to Zoya Juicy in the bottle. My favorite of the three is definitely Power Play. It only took 2 coats to get bottle color, while the other colors took 3+ coats. Super Violet is a close second. Both
Super Violet and Power Play are high quality and incredibly affordable. My personal opinion is that they are similar enough that owning both is probably not justifiable. Juicy is meh… but of course, I'm biased because I'm predisposed to disliking Zoya. It is no surprise that I was not impressed by Juicy.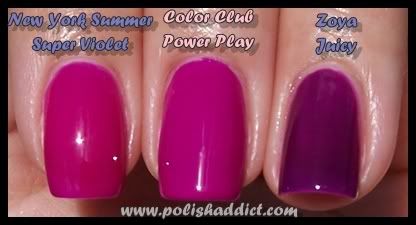 These swatches are in direct sunlight. New York Summer Super Violet took 3 coats, Color Club Power Play took 2 coats, Zoya Juicy took 4 coats (note the cuticle drag). All these colors dry somewhat matte so I also added a layer of Color Club Vivid top coat.
Which color do you guys like best? Do you have a favorite neon purple not mentioned here?