The first time I saw the ManGlaze guy post on the nail board, the boyfriend pointed out that 'ManGlaze' is a euphemism for man spunk. I said, "no way, it's just a play on China Glaze"… then I saw the ManGlaze website. Go ahead, click the link, then put your mouse on the yellow image. After seeing that advertisement, there wasn't a doubt in my mind about the meaning behind the name ManGlaze. I know it's probably not obvious since this is a blog about nail polish but I am a hardcore militant fundamentalist feminist. It goes without saying that that sort of imagery is offensive to me, and that's what I told the ManGlaze guy in his post. But then he offered me free nail polish. After which I said, "feminism?… what feminism?" (Sorry girls, I have zero integrity when it comes to free nail polish.)
These swatches are two coats of color with no top coat. Usually, it would be blasphemy to not use a top coat. I made an exception this time because the ManGlaze guy BEGGED me not to put top coat on his polish. ManGlaze's whole angle is "glossy has been canceled." Their polish is supposed to gritty, matte… those things, I suppose, are thought to be synonymous with manliness… or something. Anyway, originally I was going to stick it to them by putting a million coats of top coat on but their polish, but I decided against it. I love this polish now, but my blue-haired 16 year-old self would have *really* loved this polish. The polish really is pretty awesome without a shiny top coat.
However – the girls on the board that have ManGlaze have been putting top coat on it. It looks amazing. Both ManGlaze Black and Grey have this ultra subtle multicolored micro-shimmer that can't really be seen when it dries matte. One coat of top coat brings out all that hidden shimmer and it's really very stunning.
ManGlaze Black reminds me black asphalt and black electronics casing. Take a look at Scrangie's comparison pic of it. With top coat on, it kind of reminds me of the way the sky looks when you are out in the middle of no where.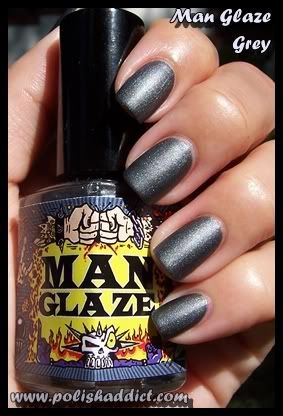 This is my NOTD. I really love it. I'm wearing it as is, matte, all day. Tomorrow, I think I'll slap some top coat on it. (Sorry – ManGlaze guy.)
ManGlaze should name these colors (every other aspect of their marketing is geared towards disgruntled male youth, the price is $6.66, the name, the ads, why not have a matching 'edgy' name for the colors? I'm thinking something like Rubber, Asphalt, or Coal for the black and something like Steel or Grit for the Grey.) ManGlaze should also release a matte top coat – like I said, not using a top coat is taboo. Also, they should put out a matte dark blue and blood red… oh man… I would LOVE that.
_____________________
Disclosure: Although it should be clear from the context of the post, in an overabundance of caution, these were sent to me for review by Man Glaze.