Color Club is getting ready to launch mini sets! I personally love minis because buying minis means I can hoard different colors without hurting my wallet too badly. They have 4 mini sets planned.
The Natural Nail Kit which will include mini nail treatments for healthy and long-lasting manis and pedis.
The Mighty Brights will include their 4 best selling colors from the Flower Power collection. This is perfect since the trend right now is bright vibrant neons. This mini set will be perfect for people that express reservations about taking the plunge into the awesome, yet flashy, world of neon colors.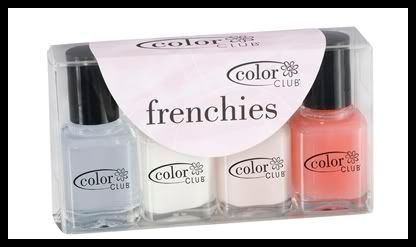 The Frenchies mini set will include 2 best selling french mani colors, Milky White, the base coat that was released with the Sweet Seduction collection, and Vivid, a brand new top coat with optical brighteners that is supposed give life to dull and fading manis, as well as, add a higher level of color intensity to fresh manis. I'm pretty excited to try out this top coat.
Finally, the Best Sellers mini set will include 4 of Color Club's most popular polishes.
The MOST exciting news of all is that Color Club's new fall collection is due out really soon! I'll post more about this collection as soon as I find out more information!
Ah. I'm so excited, I can hardly contain myself. Color Club is probably one of the only nail polish brands of which I have nothing negative to say. Love the formula, love the colors, LOVE the price.
Source: Color Club